"People who exercise tend to have improved immune and digestive functioning, better blood pressure and bone density, and a lower risk of Alzheimer's disease, diabetes, obesity, heart disease, osteoporosis, and certain cancers." (Source: helpguide.org)
The CDC recommends older adults try to be active for at least 30 minutes a day. If you are feeling stuck in a rut, now is a great time to consider changing up your routine! Try these creative activities that can be personalized to fit your specific needs, space, and endurance levels.
Which one will you try first?
Make a Patio Garden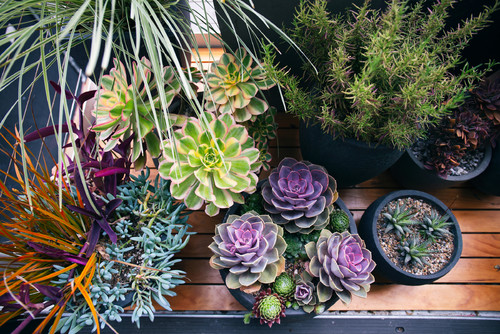 Who says you need a big yard to have a garden? Use your green thumb to make a patio garden with pots. Tending your garden will help you stay active and enjoy the benefits of nature at the same time. Not only can you pick your favorite plants to grow, but you can design a welcoming space with your choice of pots. Use bigger pots or utilize tables to make weeding less straining on your knees and back.
Don't have a bunch of flowerpots laying around or need some creative inspiration? Use these fun ideas!
Take a Virtual Exercise Class
You don't have to leave the house to learn these days. Exercise classes are available online that you can do in your own living room. Many are free to watch, too! Search for your favorite activity: yoga, walking, or dancing. If you're just starting out, there are also videos that incorporate low impact  chair exercises. So have a seat and get started!
Cook Something New
Yes, cooking can help keep you active! Don't let travel restrictions keep you from enjoying foods from your favorite regions around the world. Plan a menu featuring dishes not typically on your menu. Chopping vegetables, kneading dough, and stirring batters all increase your activity level and keep you moving. Invite your family and friends to help you, and then enjoy the meal together! Get started with this idea from Gordan Ramsey.
Start a Game Night
Playing games is a great way to improve brain health. Group games can incorporate strategy and cooperation. Even playing card games with a few people can help you stay socially active. Host a game night and share some laughs with your friends and neighbors.
Our Premier 55+ Community: West Park in West Des Moines
Our West Park retirement community offers a safe, secure environment where active seniors can live their very best lives. Our growing community is the perfect place for anyone who wants to downsize or enjoy a low-maintenance lifestyle. We're located minutes from restaurants, grocery stores, golf courses, churches, movie theaters, and shopping. Plus, West Des Moines is also home to green spaces for outdoor enthusiasts. Camping, kayaking, and hiking are available at Walnut Woods State Park or Racoon River. There are so many ways to stay active and make new friends.
Learn more about West Park, check out our current home inventory, and schedule a tour today!